Preparing your home for guests during the holiday season can be intimidating, but it doesn't have to be. Given the right tips and tricks for decorating your home and cooking comforting dishes, you're sure to create beautiful memories with the ones you love most. With Jenny being the ultimate entertainer and Jennifer's extraordinary cooking skills, you'll undoubtedly impress your guests this Thanksgiving with these decorating and meal preparation tips!

When it comes to ringing in the holiday season, nothing is more inviting and festive than a perfectly-decorated home. There are many ways to create a welcoming and holiday-ready environment, from sprucing up your front yard to incorporating accents indoors.

Exterior Spaces
Though you'll spend most of your time and attention decorating your home interior for Thanksgiving, it's essential to start with the front yard. Your dinner guests will see your home exterior as they drive up, and it's crucial that they feel the holiday spirit right from the start. Consider these design ideas to exude the inviting holiday feel you're after:
Hang a chalkboard sign on your front door to welcome guests to your holiday soiree.


A fall wreath adds a simple and elegant touch to your entryway. Opt for a DIY wreath for a more personal and homey choice.


Wreaths are great, but door hangings are an excellent option to switch things up. Use dried flowers so you can leave your wreath up all season.


Pumpkins make for a classic autumn display. Use stencils and liquid gold leaf to add a bit of glamour.


An outdoor fall terrarium adds a touch of whimsy to your porch. Use various elements such as Spanish moss, miniature pumpkins, and bright leaves in a shallow terracotta bulb dish under a bell jar for a charming, ornamental piece.


Purchase a Thanksgiving-themed welcome mat or paint a DIY pumpkin mat with your children for a fun family project.


Illuminate your entryway with candle holders made of stout gourds, pumpkins, and glass chimneys.


Nothing says "welcome to my home" more than a DIY welcome mat.
Color Palette & Patterns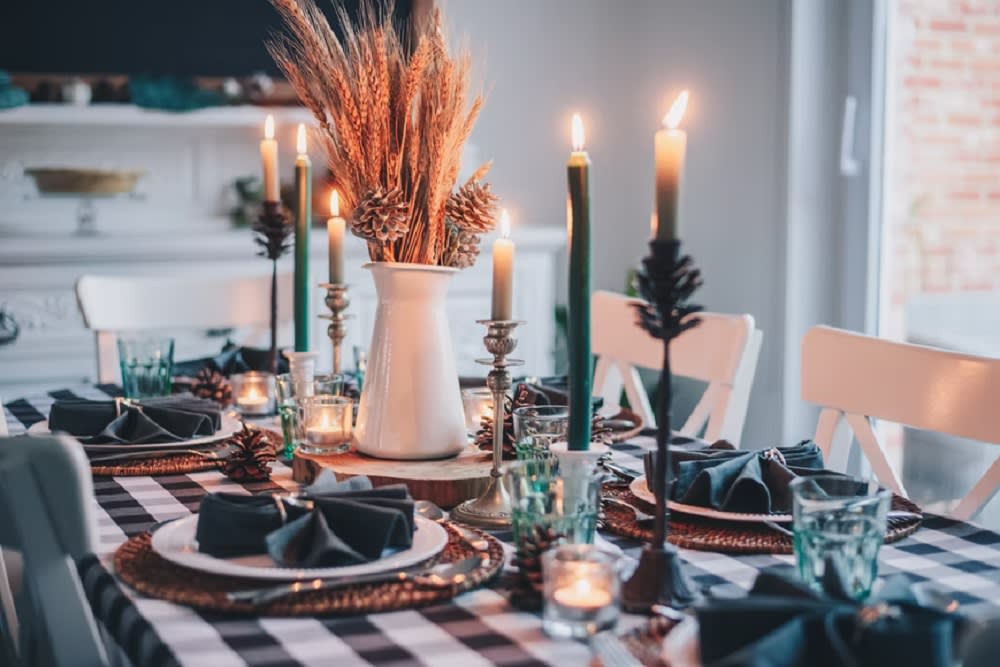 Traditional fall colors are red, orange, and yellow, but more rich and dramatic hues are trending. Change up your autumnal color palette by decorating in eggplant, olive green, and mustard yellow. Complement earth tones with precious metal hues such as rose gold or silver. Here are some additional ways to curate a perfect fall color palette:
Replace your summer table runner with a deep olive green or burnt orange one.


Add a level of sophistication to any room by incorporating rich forest greens, dark blues, and warm browns.


Cinnamon plaids and stripes exude fall vibes.


Create a color-blocking effect by arranging branches with fall leaves by color.
Table Ornamentation
When hosting the Thanksgiving feast, dressing up the dining table is crucial to tying the holiday theme together. There are plenty of easy, quick, and stylish ways to elevate your decor this year. Consider these design ideas to make your Thanksgiving table the star of your holiday decorations:
For a rustic look, use these stump place card holders to display your guests' names. Make it even more personal by using photos of your guests instead of just writing their names.


Make your rustic farmhouse table more elegant with a voluminous and colorful floral arrangement placed atop French linens.


Incorporate some string lights for a subtle glow.


Use some velvet pumpkins for a chic and fun twist to traditional Thanksgiving decor. The best part about these is you can stow them away and use them again next year!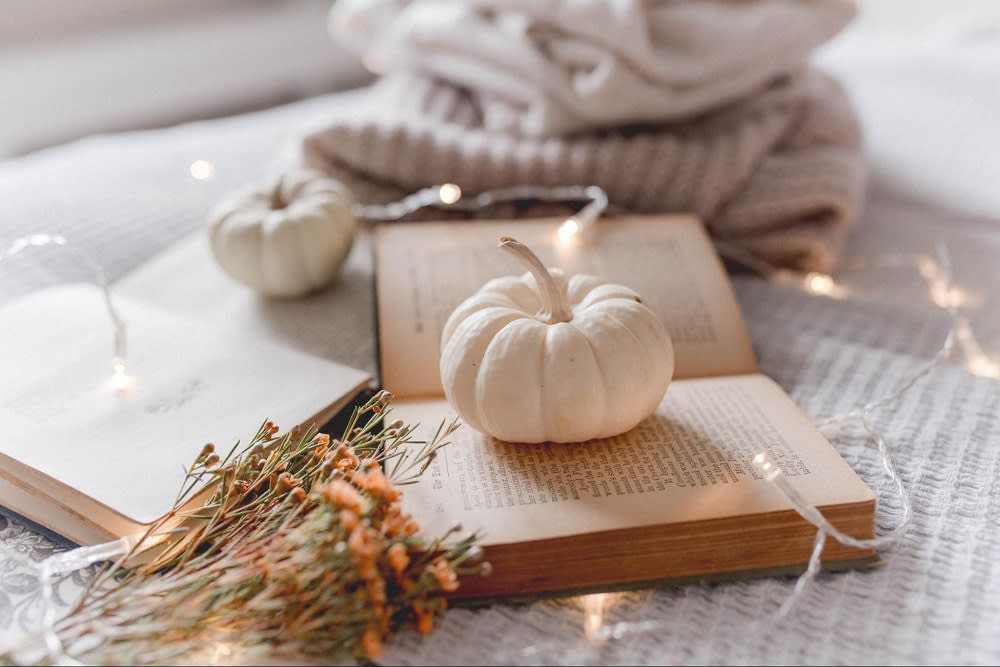 A white table will never go out of style, and it is particularly elegant during the holidays. Complement white tableware with faux pumpkins spray-painted white and gold for a chic display.


Tie-dye your napkins for a bohemian feel using this tutorial.


Include nature-inspired centerpieces, napkin rings, vase fillers, and candle holders. Check out Wayfair's extensive collection.


Place a charming fruit basket on the dining table filled with pears, cranberries, and other seasonal produce.


Don't neglect the kids' table! Incorporate some mini pumpkins as centerpieces and orange pillows as floor cushions.


Check out these additional Thanksgiving decorations for inspiration.
Now that your home exterior and dining room are decorated to perfection, it's time to think about meal preparation. Creating a comforting, homemade Thanksgiving dinner your guests will remember for years to come may seem like an intimidating task. With these appetizers, main course, and side dish ideas, not only will this dinner be memorable, it will be delicious and have your guests dying for recipes!
Make a Game Plan
First thing's first - you need to grab a notebook, pen, and your calendar and brainstorm Thanksgiving dinner ideas. Simply sitting down and making a plan can save you a lot of stress and time later. Figure out a menu, when you need to go shopping, and consider what you can prep ahead of the big day. Once you have decided what you'll be making, print out recipes and clip them together on a clipboard for easy retrieval. Remember when conjuring up a menu that your guests will expect to see traditional dishes, like turkey, stuffing, cranberry sauce, and pie. Cover the basics and then spice up the sides when you're feeling creative.
Appealing Appetizers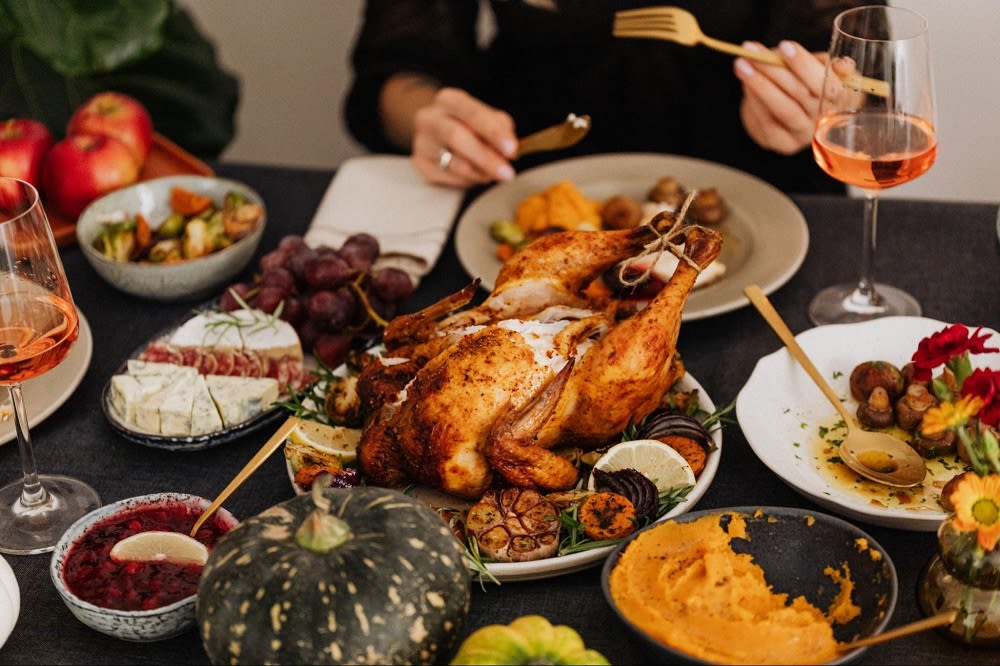 Keep your hungry guests at bay with these delectable bites:
Sumptuous Sides
From classic mashed potatoes to cornbread dressing, impress and fill your guests with delight and warm autumn feelings with these side dishes:
Main Course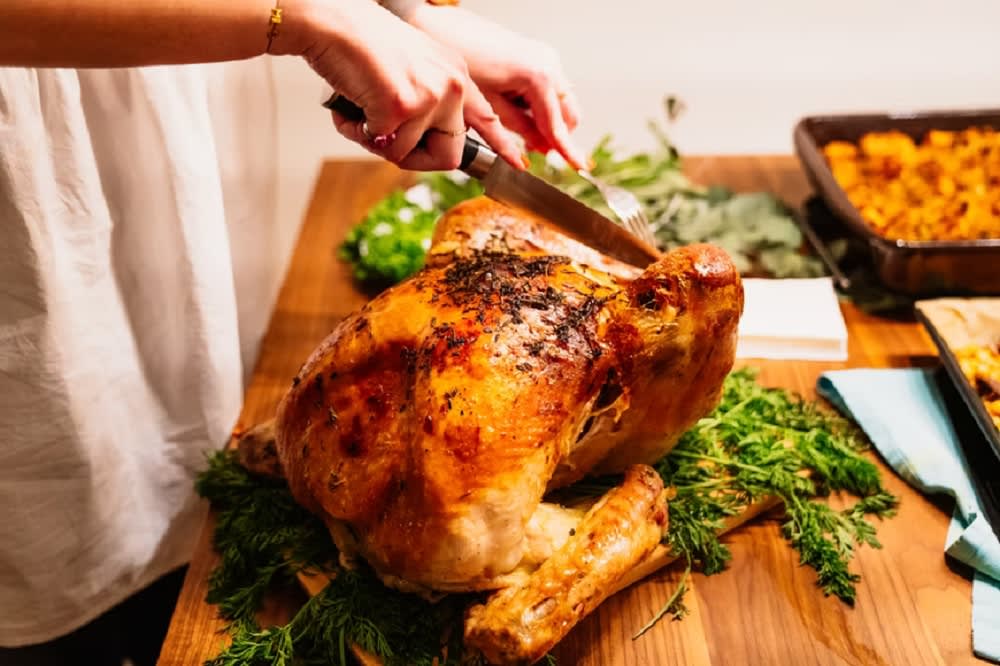 Sure, you can change things up by cooking a nice honey ham or perhaps a rib roast, but let's face it - people want turkey on Thanksgiving! The last thing you want to do is serve a flavorless, dry bird. Follow these turkey tips to ensure your bird is juicy and delicious this year:
Chef Geoffrey Zakarian recommends letting the turkey sit in the fridge overnight, uncovered. This allows the skin to dry out, making for a crispier skin once cooked.


Cut your cooking time significantly by roasting a spatchcocked turkey. Not only will it cut down cooking time, but it will also result in a juicer bird with crispy skin all around.


Release even more flavor in your spices by roasting them and crushing them with a mortar and pestle before using them in a turkey brine.


Brighten the flavor of your turkey by incorporating citruses, such as zest of lemon, limes, and oranges.


For the juiciest turkey imaginable, brine the bird.


Instead of thickening your gravy with flour, use tapioca starch for a gluten-free alternative that gives your gravy a nice thick, rich consistency.


Check out this turkey tips guide for details about the above tricks and additional suggestions.

Sold by J + J is a fast-growing luxury real estate group serving Sonoma and Marin Counties. If you're looking for your dream home in the Sonoma or Marin area this holiday season, reach out to Jennifer Aument and Jenny Watson today!